Wire container
General introduction of wire container
Wire Containers/Wire Mesh Container
Stackable, collapsible containers built for general warehouse and factory use, mainly for material handling, semi-finished, finished product storage, logistics needs.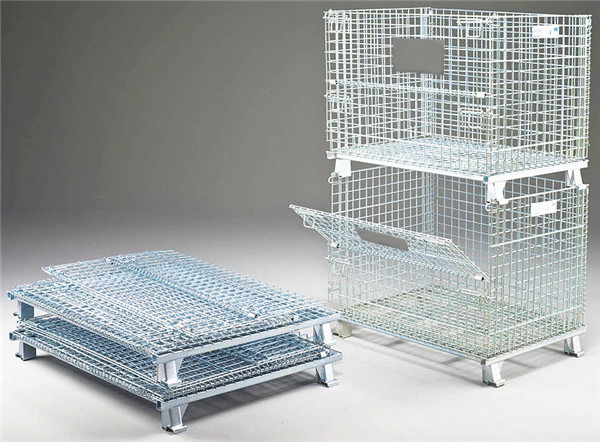 A, Bending-shaped handle latch, open and lock the door naturally.
B, U-shaped down beam, reinforce loading capacity.
C, Particular structure of baseplate, ensure the stability when stacked.
D, Spring hinge connect the reticular wire mesh, foldable when not in use.
E, Triangular metal clamp on the top to ensure the intensity of the spring hinge.
F, Auxiliary strengthened rib structure, ensure the stability when unfold.
G, Multiple spot welding technique, ensure the solidity and durability.
H, Independent bolt and drop gate for easy to fetch products when stacked.
Features of collapsible wire container:
Inventory levels are visible, making it easy to monitor product storage

Drop side gate design for easy to fetch products, even when containers are stacked

Four-way fork entry, easily moved by forklift, even when fully loaded

Collapsible, Stackable design, folds flat for easy carry, recycle

and storage when not in use

Made of steel wire and metal plate, galvanized surface treatment, it is durable and stable, reusable
The wire container is easy to fold and unfold: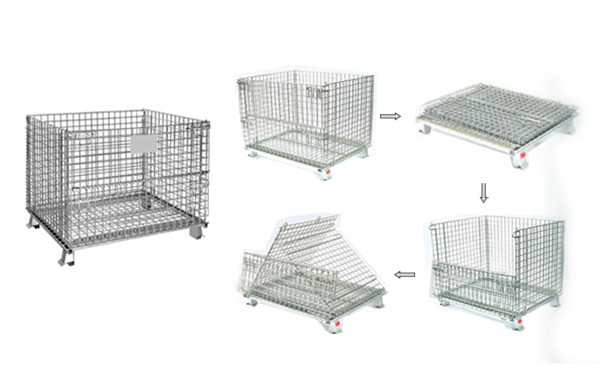 Stack up to 4 high:
The size of wire container:
Different dimension and wire gauge, mesh size, its loading capacity is different, following is our regular items. (the height of feet -100mm, surface treatment - galvanized)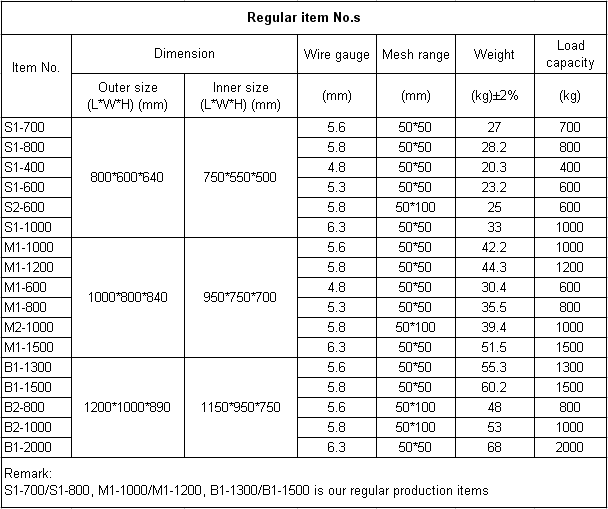 The wire containers are widely used for mateial, most products handling, logistics and storage, especially for automotive parts, accessories and spare parts, hardware, machinery, electronics, warehousing etc.
Psee the usage of wire container to know more of it.